Beth Fifield Hodgson and Barbara L. Guzman established Spring Environmental, Inc. to provide high quality, reasonably priced technical assistance to Pacific Northwest firms.  Since its inception in early 1997, Spring Environmental has developed air permits and supporting engineering and modeling, prepared integrated emergency response plans, conducted multi-disciplinary environmental audits, and provided training to over 1200 employees in the Pacific Northwest.  Spring Environmental is managed by a licensed professional engineer and provides engineering evaluations of environmental systems.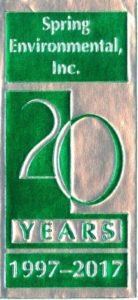 Celebrating 20 years in business as of January 2017, we have provided services to a variety of business sectors including:
Aggregate and Rock Crushing
Airport
Asphalt
Attorneys
Bakery Pan Glazing
Concrete
Dairy
Fiberglass Casting and Coating
Foundries
Greenhouse Facility
Hospitals
Incinerators
Laundering
Manufacturers of:

Aluminum Parts
Boats
Brakes
Chemicals
Concrete Building Products
Electronics
Plastics
Pulp and Paper
Recreational Vehicles
Stoves
Tires

Military Support Operations
Millboard Fabrication
Mining
Municipal
Nail Salon
Other professionals

Construction
Engineers
Geotechnical
Lawyers

Painting
Paper Coating
Public Utility Districts
Real Estate Development
School Districts
Steel Milling
Steel Parts Casting Shop
US Army Corps of Engineers
Utility Transmission
Wood Products Industry
We strive to meld our experiences with our clients' needs to develop an effective and long-term solution to the environmental aspects of their production.